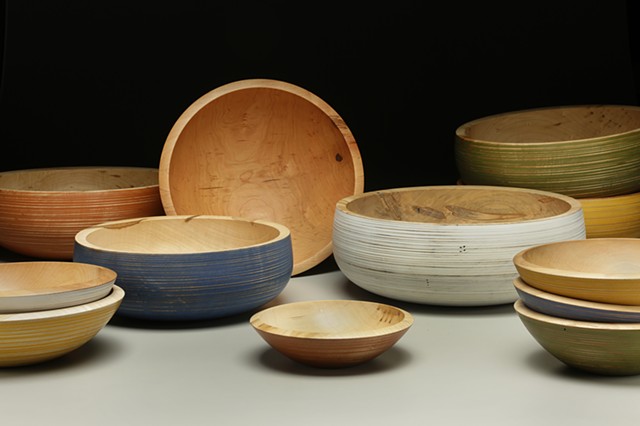 I have always enjoyed working with my hands. I've done lots of different things with my hands, from set construction and painting, to sculpting clay to woodworking. There is something about working with wood that gives me the most satisfaction.
I started working with wood as child as woodworking was my father's hobby and there were always scraps laying around for me play with. I started making furniture when I was sixteen. Dad enrolled me in a furniture-making class at the University of Cincinnati where he taught English. My senior year of high school Dad took a woodturning class from Al Stirt. I remember him coming home from the class with bags of bowls he had turned in one week! This had a huge effect on me. Furniture making is a slow process, and the immediacy of turning was very attractive to me. After struggling on my own at the lathe for several years, I took a class with John Jordan at Arrowmont School for Arts and Crafts. I credit John for giving me a firm foundation of turning techniques. John's passion and commitment to his work continues to inspire me.
During the late 1990s I began a series of ebonized vessels. These were inspired by the work woodturner Clay Foster and furniture maker Kristina Madsen who's works are heavily carved with African and Fijian motifs. Their work led to my own study of African and Oceanic art that has proven to be a continuous inspiration for me. Another important influence has been Stoney Lamar, a woodturner/sculptor. Starting in the fall of 2000 I began sharing studio space with Stoney. For the next six years I had the opportunity to work next to Stoney and observe his approach to making his work. He considers the lathe a tool for carving as opposed to a tool for making round/symetrical objects. This very basic, fundamental concept is key to how Stoney works as a sculptor. This perspective inspired me to experiment with other tools off the lathe to the point where the lathe has become just a place for me to begin my work. Although I see the lathe as an important tool, and I still really enjoy the process of turning, most of the time spent working on a piece occurs after the turning
Over the last couple years my work has begun to shift from work based solely on turned forms to work that is made with even more direct methods such as chainsaws and power planers and grinders. When I first started turning I was captivated, as many people are by how quickly I could make something. I had up to that point been a very slow furniture maker. With the lathe I could turn something in just a couple hours or a day. This gave me the opportunity to work though ideas much quicker than working in the world of right angles and joinery. Now, with the use of the chainsaw as my primary tool, ideas develop even quicker than they do at the lathe.
I work primarily in green wood, as it is readily available to me in quantity and size. This influences the work as not every piece I want to make can be made from any random log. So, in a way, working with wood the way I do is a bit like using found objects in sculpture. I like that the material differs from species to species, and tree to tree, which presents new challenges and opportunities. I may have an idea for a piece and have to let it sit in a sketchbook until the right piece of wood appears. In other cases a piece of wood, its size and proportions, may suggest a particular approach to me and send me off in a whole new direction. An example of this is the Boat Forms I make. I made the first few of these when I was trying to utilize some really nice but relatively small Dogwood logs. They were only about 6-7" in diameter, but about 24" long. I wanted to utilize the natural beauty of the material as well as give myself some surface area to embellish with carved patterns much like the vessels I'd been making. Without a specific piece in mind I turned long pod forms that were quartered lengthwise. The flat "quartered" sides were then planed and sanded smooth to present a great surface to then play graphic designer on.
Please enjoy the images on this website and feel free to contact me with any questions you might have, technical or otherwise.